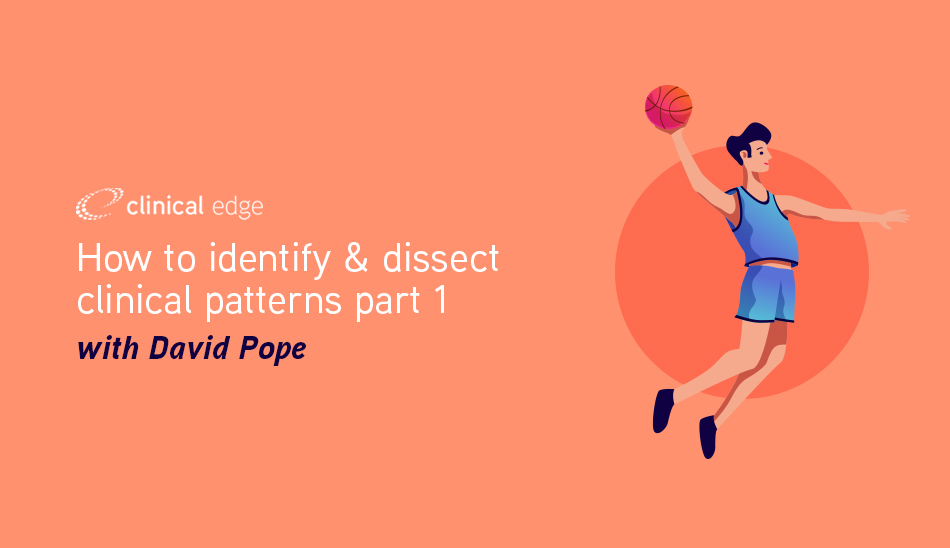 How can you take a detailed history, perform a thorough assessment and provide excellent treatment in a short treatment session? Clinical patterns can improve the speed and accuracy of your diagnosis, helping you quickly identify a likely tendinopathy, frozen shoulder, lateral elbow tendinopathy or lateral ankle ligament injury and potential treatment options.
Relying only on clinical pattern recognition can also cause us to fall back to recipe based treatment approaches, such as standard isometric or eccentric programs, orthotics or exercise sheets. How can you use clinical pattern recognition and identify important factors that help you individualise treatment to each of your patients and improve your treatment results?
In Clinical patterns part 1 with David Pope (APA Titled Sports & Musculoskeletal Physio) you'll discover:
How you can improve your pattern recognition
Differences in pattern recognition between beginners and experts
How to use clinical patterns to develop diagnostic hypotheses
How to develop and test hypotheses with your subjective
A case study of a runner with Achilles tendon pain, demonstrating how to apply clinical reasoning in your management
Clinical patterns and differential diagnosis with Achilles tendon pain
How to identify and incorporate patient goals into your assessment & treatment
How long will it take patients to get better? Factors involved in prognosis
How to use the Musculoskeletal Clinical Translation Framework (MCTF) to improve your clinical reasoning
How an individual's perspective helps guide your treatment
Identifying red flags
How to know if your patient has a specific or non-specific musculoskeletal disorder
How to identify the stage of your patients pain, and how this guides your treatment
CLICK HERE to improve your clinical reasoning with a free trial Clinical Edge membership
Clinical patterns part 2 with David Pope is next in the clinical reasoning module, and you'll discover how your patients' type of pain (nociceptive, neuropathic, neuroplastic & mixed) guide your assessment and treatment. You'll also explore how to identify your patient's level of sensitisation or irritability, whether they have mechanical or non-mechanical pain and other patient features that help guide your assessment & treatment.