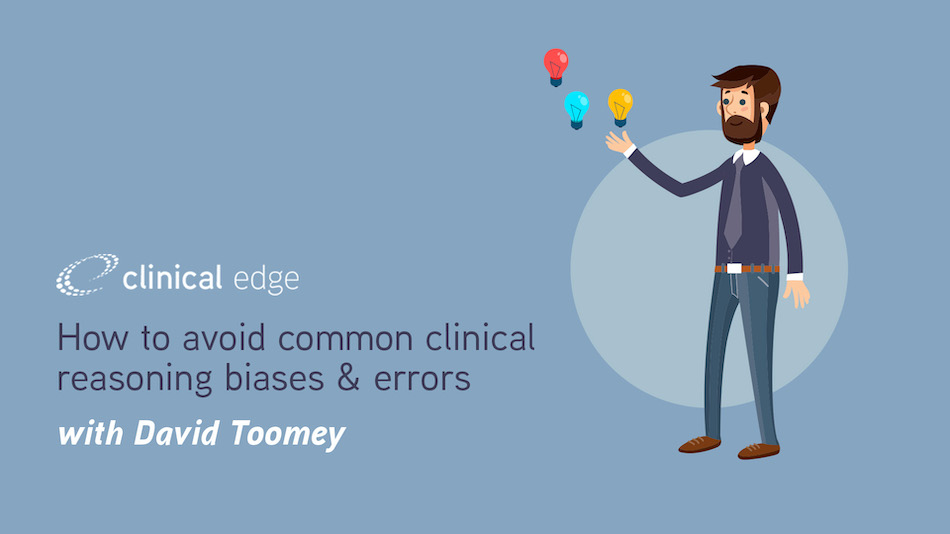 How do you decide which treatment to use with your patients? Which combination of strengthening, taping, stretches, manual therapy, movement retraining, load management or another treatment will be most successful with your next low back or shoulder pain patient? We often choose our treatment based on past successes and failures, courses we have completed, therapists we work with or studies we have read. Each of these approaches to decision making are valid, but may also result in developing biases and limit your treatment results.
Do you like or avoid high load strength exercises? If you have stirred up a patient in the past with a high load exercise, are you likely to use a similar exercise in future? If you subsequently avoid and develop a bias against high load exercises, will this limit your results with patients that respond well to and require a high load treatment approach? If you've had a lot of success with high load exercises, and one of your patients doesn't respond to this approach, will your bias towards this approach lead you to believe that they are a "non-responder" and their pain may be due to "yellow flags" or biopsychosocial issues? Are there other treatments they may be more suited to that your biases have already excluded?
Do you incorporate or steer clear of manual therapy in your treatment? Do you have a bias for or against manual therapy? Are your biases for or against manual therapy related to your training, previous treatment results, evidence or social media posts you've read?
Clinical biases come in all shapes and sizes, we all have them, and they can positively or negatively impact our treatment. How can you recognise and identify your clinical biases that may be limiting your treatment results?
In this presentation with David Toomey (NZ based Musculoskeletal Physiotherapist and PhD Candidate), you'll discover:
How to identify your clinical biases
Patient examples of how your biases may limit your treatment results
Common biases with ankle sprain patients
How to recognise when lack of treatment progress is due to bias rather than because your patient is not completing their exercise program
How your treatment and clinical reasoning can be positively or negatively impacted by courses we complete
How to avoid bias when creating a diagnostic hypothesis (eg lateral ankle ligament injury vs syndesmosis injury) during our history and examination
9 simple techniques to reduce your clinical biases and improve your treatment results
CLICK HERE to improve your clinical reasoning with a free trial Clinical Edge membership
Learning outcomes
Identify why clinical errors occur
Recognise your clinical reasoning biases and errors
Reduce your biases and clinical reasoning errors with the 9 tip toolbox
CLICK HERE to improve your clinical reasoning and treatment results with a free trial Clinical Edge membership