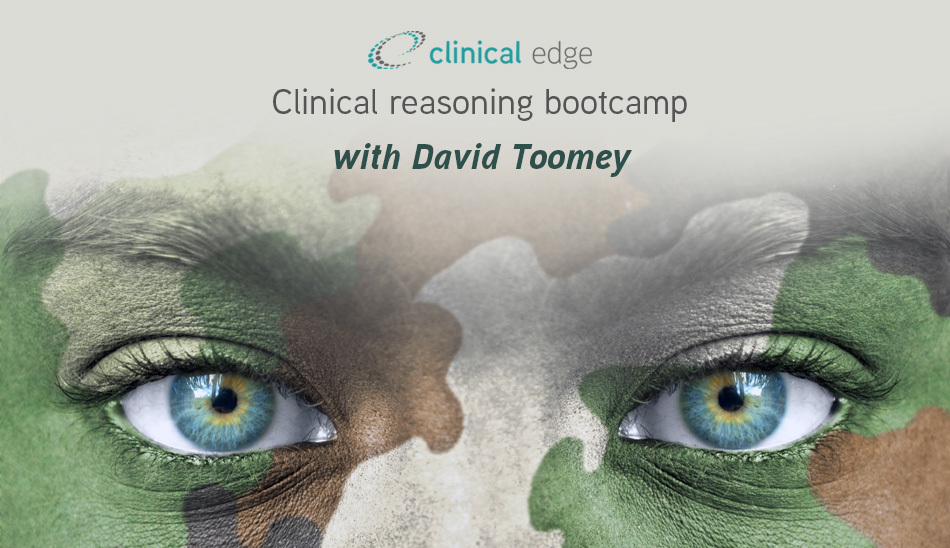 Excellent clinical reasoning improves your questions, diagnoses, communication, treatment decisions and results.
Throughout the clinical reasoning module, you've thoroughly developed your clinical reasoning knowledge and skills. Now it's time to put your new skills into action, test yourself with a real life scenario and adopt the strategies of expert clinicians in your clinical reasoning. Are you up to the challenge?
In this presentation with David Toomey (Musculoskeletal Physio) you'll work through the case study of a low back and hip pain patient, and put your clinical reasoning to the test. You'll identify important information, biopsychosocial factors, evidence for and against potential diagnoses, objective tests and treatment options you'd perform with this patient.
There's more than one way to "skin a cat", and similarly each expert practitioner will have a unique clinical reasoning approach with patients. Each of the expert clinicians on the Clinical Edge Senior Physio Education & Presentation team will take you through their clinical reasoning approach to this case study. One or more of these approaches will appeal to you, and you can adopt the strategies of these experts to create or expand your unique clinical reasoning approach.
This is a detailed two part presentation in which you'll experience the reasoning process of expert clinicians, and build your clinical reasoning.
In Part One, after you work through the case study yourself, Paula Peralta (Specialist Sports Physio) and Nick Kendrick (Musculoskeletal & Sports Physio) will take you through their clinical reasoning process with the same patient. You'll identify different clinical reasoning strategies the experts use to clarify the information you need from each patient, how to identify potential diagnoses and treatment options, while gaining confidence that you're on the right track.
You'll also discover:
5 clinical reasoning habits you can use immediately to improve your treatment results.
How to use clinical reasoning reflection forms, including the Musculoskeletal Clinical Translation Framework and the University of South Australia clinical reasoning form.
How to start with small clinical reasoning habits to achieve big success.
A clinical reasoning review you can perform in 30 seconds.
Aims & objectives
Use the strategies and habits of expert clinicians to develop a unique clinical reasoning approach.
Learn five effective clinical reasoning habits.
Develop and refine your clinical reasoning process.
Test your clinical reasoning skills through practical case study examples.
Explore a variety of clinical reasoning reflection exercises to determine which ones support maximal growth and development for you.
Learn clinical reasoning exercises that can be used in as little as 30 seconds whenever you're short on time.
Part Two, available next week, will take you through Simon Olivotto's (Musculoskeletal Specialist Physio) clinical reasoning approach to this case study. Dave Toomey will reveal the clinical reasoning used in this patient's actual assessment, diagnosis & treatment.
Dive into Clinical reasoning bootcamp part 1 with David Toomey now to fully develop your clinical reasoning skills, and prepare for the final part in our Clinical reasoning module - Clinical reasoning bootcamp part 2, available next week.
CLICK HERE to improve your clinical reasoning with a free trial Clinical Edge membership