How do you choose exercises to improve your patients' pain? Will your low back pain patient benefit most from exercising painfree or into pain, strengthening or stretching, specific or general exercises? How often, what intensity, how many exercises, sets and reps should they perform? There are so many factors to consider, so how do you know which ones to choose?
Choose a combination that works for your patient, and your patients will make really nice improvements in their pain. Make the wrong choice, and your patients will become disengaged and give their exercises a miss altogether, or their symptoms flare up and they lose confidence in you.
Exercise is an effective, evidence based treatment for pain, but it can be hard to 'get it right' for our patients.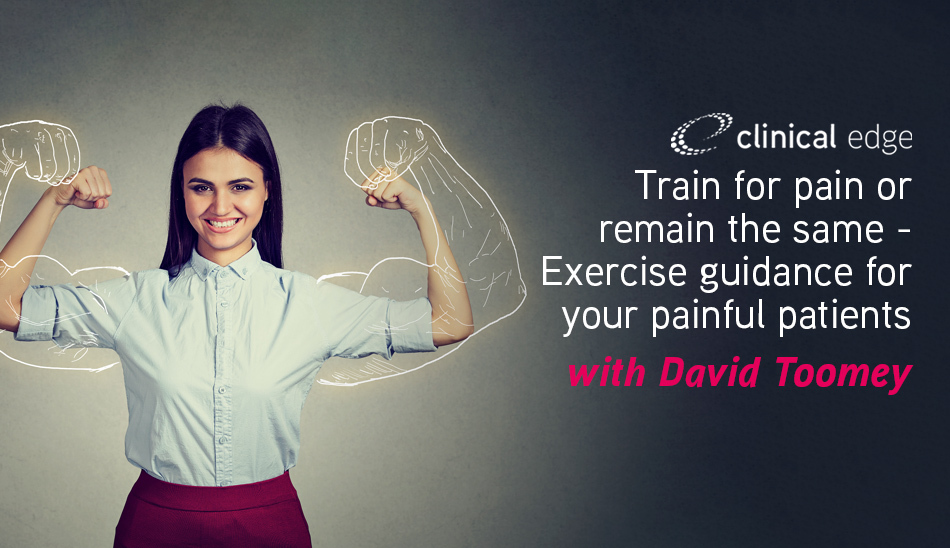 It's time to take the guesswork out of your exercise prescription. In this presentation, David Toomey (Musculoskeletal Physio, PhD Candidate) will reveal:
How exercise helps patients in pain.
How to design exercise programs & dosage for your painful patients…including what reps, sets, frequency and intensity to use with each patient.
Is exercise for pain really just all about squats and deadlifts?
How we often 'get it wrong' with exercise for pain.
Why cookie cutter exercise programmes don't cut the mustard when it comes to improving pain and establishing effective exercise habits.
How to make exercise relevant and meaningful, to boost patient engagement and adherence.
How your explanations impact the success of your exercises, and the most effective ways to explain exercises to your patients.
The four pillars of psychologically informed exercise prescription for pain.
Chronic musculoskeletal pain and exercise - 9 key points that tee both yourself and your patients up for success.
The pros and cons of painful and painless exercise.
How to build a pain flare toolkit to guide your patients through their painful episodes.
Improve your patients pain now using effective exercise prescription, with this presentation from David Toomey.
CLICK HERE to improve your assessment & diagnostic skills with a free trial Clinical Edge membership