Have you ever looked at a list of your patients medications, and wondered why they have all these drugs prescribed? Why they're taking an anti-depressant or anti-convulsant when they have pain, and no depression or epilepsy?
You've had patients with acute back and neuropathic leg pain or complex regional pain syndrome (CRPS), and wondered if your patient may benefit from medications to improve their pain or neuropathic symptoms.
Which medical treatments for pain are supported by the evidence? How do they help pain, and which of your patients may benefit from them?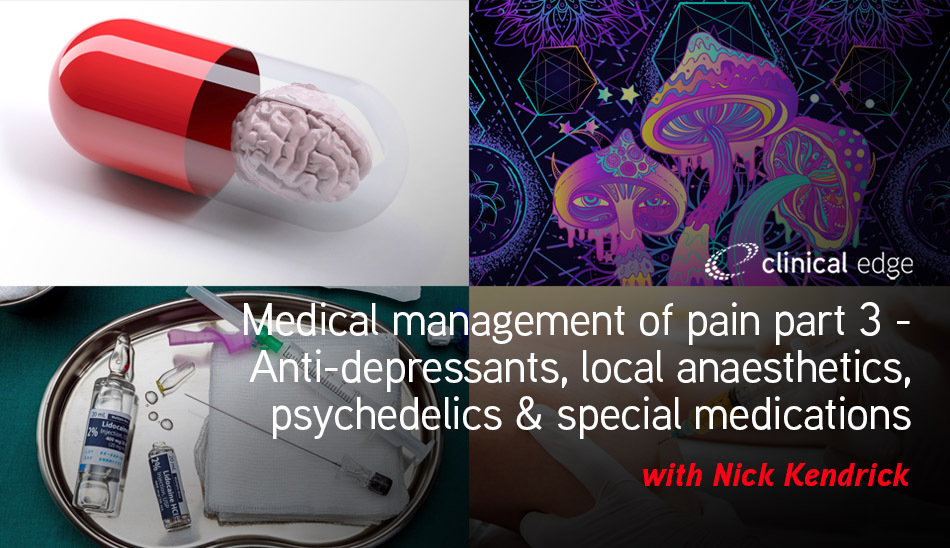 "Medical management of pain part 3 - Anti-depressants, local anaesthetics, psychedelics & special medications" with Nick Kendrick will help you:
Know when your patients will benefit from pain medications,
Identify serious but often missed side effects of common medications, and
Use the latest evidence to answer your patients questions on emerging pain medications and injections.
You'll discover:
Anti-depressants and anti-epileptics
Anti-depressants and anti-convulsants such as Lyrica/Pregabalin are often used in patients with neuropathic, nociplastic or persistent pain.
Why they're used to treat pain.
How they work.
The difference between tricyclic, selective serotonin reuptake inhibitor (SSRI's) and serotonin and norepinephrine reuptake inhibitor (SNRI's) antidepressants.
The evidence on the effectiveness of antidepressants and anti-convulsants for pain.
Which medications are most suitable for patients with temporal summation (increased pain with repeated pressure or activity).
Local anaesthetics (LA)
Discover how they can be effective in treating local neuropathic pain (click here for a quick video case study).
Using local anaesthetics for peripheral neuropathic pain.
Serious side effects you need to monitor for in patients receiving local anaesthetics.
Psychedelics
The developing role of psychedelics in the treatment of persistent pain.
The evidence for and against LSD, Cannabis and Ketamine.
Special cases
Disease modifying anti-rheumatic drugs (DMARD's) - how they work and adverse effects.
Common migraine drugs.
Capsaicin cream - when it may be useful, and advice to give your patients that are prescribed capsaicin.
Injections
Platelet rich plasma (PRP) - Is it effective for tendinopathy, lateral elbow tendinopathy or knee osteoarthritis (OA)?
Stem cell therapy - whether the evidence supports its use.
Thoroughly understand your patients medications, so you can answer patients questions, refer your patients for a medication review, and monitor your patients for medication effectiveness and side effects with this presentation.
CLICK HERE to improve your assessment & diagnostic skills with a free trial Clinical Edge membership