In the final presentation in this three-part series on specific or non-specific low back pain with Simon Olivotto (Specialist Musculoskeletal Physiotherapist, FACP), you'll discover how to choose assessment tests and treatment for your low back pain patients.
You'll know how to explain your patients pain and diagnosis and provide a pathway to recovery.
You'll explore the case of a 44 year-old male with a two year history of persistent low back pain, despite previous Physiotherapy and multiple medical interventions including facet joint injections and medial branch block.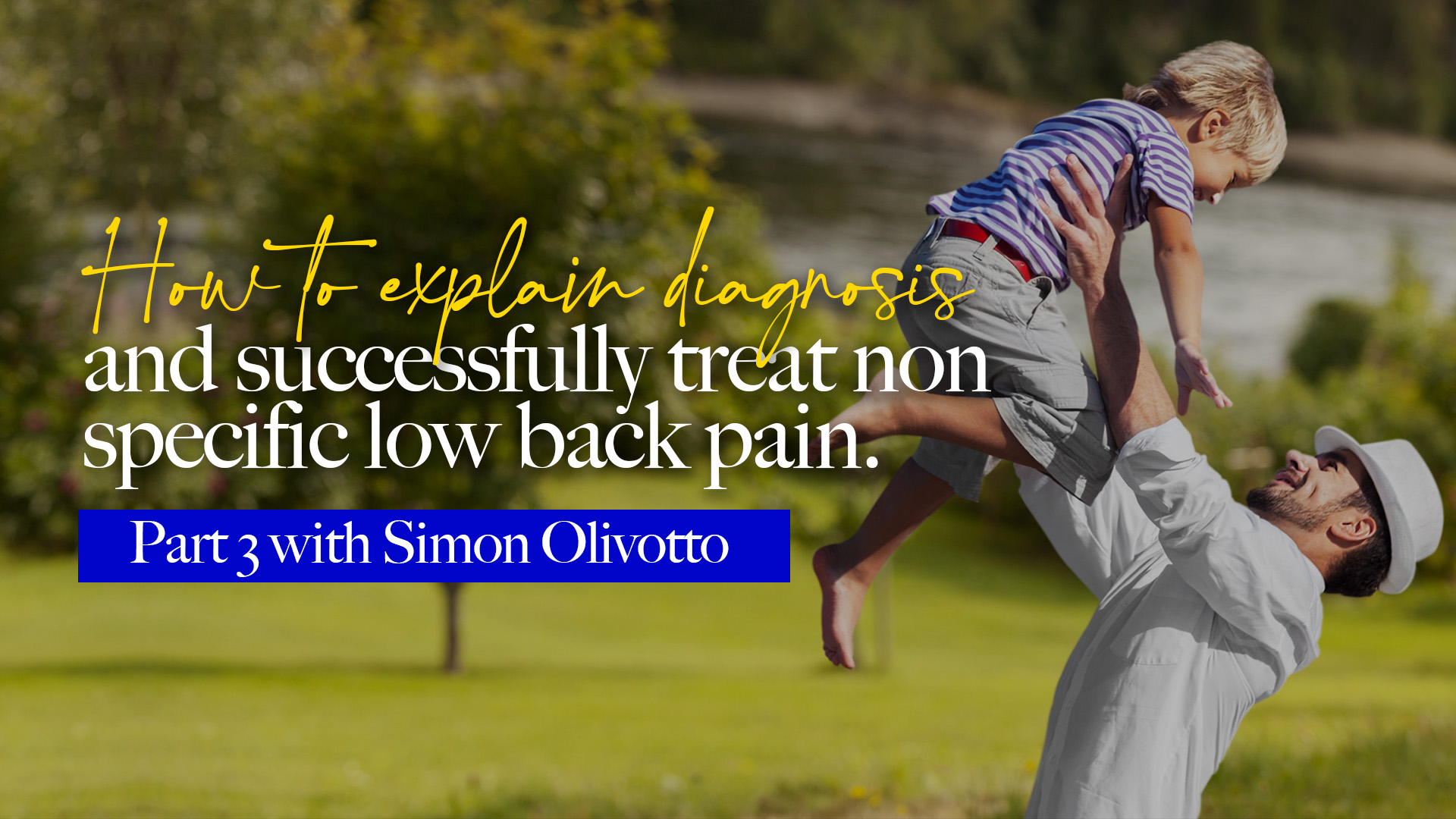 Using this case study example, this presentation will break down how to assess and successfully treat your patients' low back pain. In particular, this presentation will outline:
The essential elements of a great low back subjective and objective assessment.
How to ditch the battery of unnecessary tests that stir up patients pain, and use a clear, simple low back pain assessment instead.
How your patients' source of symptoms impact your assessment and management.
How to explain a diagnosis using source of symptoms as well as contributing factors when a specific diagnosis is not possible.
How to determine the causes for unhelpful movement patterns.
How to assess psychosocial factors and understand how these may influence your patient's recovery.
Understand how to differentiate and tailor your treatment if your patient has nociceptive, neuropathic or nociplastic pain features.
Understand the role of lifestyle factors, stress, sleep, diet and exercise on your patient's recovery and how to address these.
How to explain your patient's low back pain and provide a pathway forward.
Watch this presentation now, so you know what to assess & treat in your low back pain patients, how to explain your patients pain and diagnosis, and how to provide a pathway to recovery.
CLICK HERE to improve your assessment & diagnostic skills with a free trial Clinical Edge membership