Pain flareups may last hours or weeks, often to a level that's hard for your patients to tolerate or continue their rehab, work and normal activities (Costa et al 2019). Have you treated any low back or neck pain patients recently that were progressing well, not quite painfree, then BAM!, their pain returned with a vengeance. They may have just been doing a bit of gardening, or cleaning their teeth when their pain flared up, and now they're struggling to bend over or walk, and seem to be back to square one.
Flareups can be disappointing, scary and frustrating for your patient, and they may respond by stopping activity all together leading to deconditioning, aggravating their symptoms by pushing through the pain or going through "boom and bust" cycles.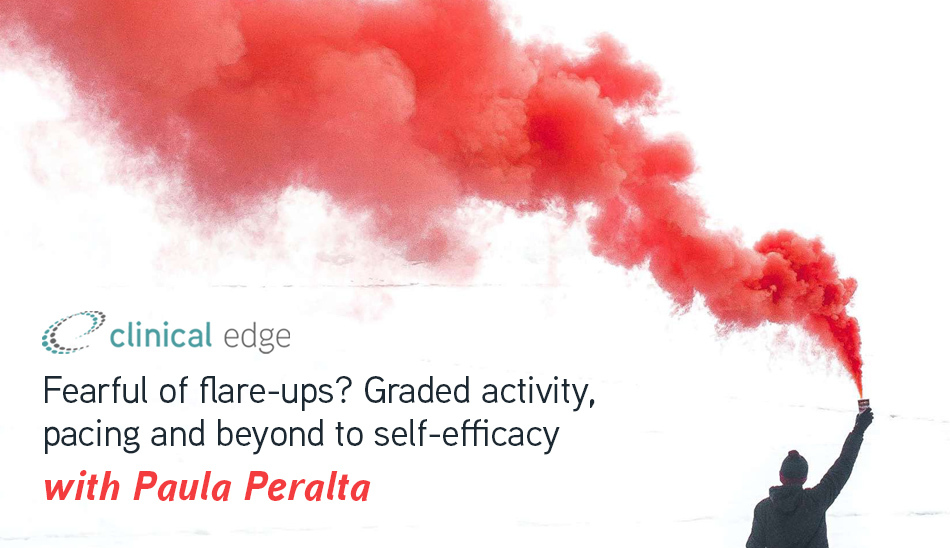 As therapists, we often feel disappointed for the patient as well, while battling to answer the question "Why has my pain got worse all of a sudden?" and come up with an action plan to get over their flareup. With this presentation from Paula Peralta (Specialist Sports & Exercise Physio, FACP), you'll help your patients prepare for and overcome their flareup, and explore:
Tailoring your treatment
The different ways patients respond to pain, and how to tailor your treatment to get the best results with each patient.
How to help patients that are "overdoers" or "endurance copers", that use the "no pain, no gain" philosophy.
How to address fear avoidance in patients that stop activity every time they experience pain.
How to treat patients with pain levels that fluctuate without a pattern.
How to choose the best treatment strategy for patients with pain aggravated by sitting or walking.
How to help patients choose and stay motivated to meet their exercise goals.
How to treat patients that are in agony.
How can virtual reality (VR) be used in treatment for chronic low back pain?
When exercising into pain is helpful for patients.
Overcoming flareups and persistent pain with graded exposure, graded exercise and pacing
How to effectively use graded exposure, graded exercise and pacing in your treatment.
Analogies to help patients understand graded exposure.
How to incorporate graded exposure to reduce your patients anxiety, and fear of movement and activity.
How to help patients manage and alter their exercise program during a flareup.
How to use graded exercise to improve patients exercise tolerance.
Easy ways your patients can track their exercise and activity to meet quotas.
How to use pacing strategies (planned physical activity with a goal focus rather than pain focus) with "avoiders" and "endurancer copers".
Summary of the evidence for pacing in adults with persistent pain.
How to use "zones" to help patients achieve their functional goals.
How to get early treatment success and get patient buy in.
How to progress pacing and exercise goals.
Rehab for athletes with persistent pain or injuries
When pathology is relevant for graded exercise approaches.
How graded exercise for tendinopathy differs from graded exercise in persistent pain patients.
How to choose rehab exercises that are more suited for athletes with chondral pathology.
How to manage load in athletes with chondral pathology.
How to use pacing strategies for training and playing with chondral pathology in weekend warriors and elite athletes with chondral pathology eg knee OA.
How pacing can be used for maximal performance in athletes with chondral pathology.
CLICK HERE to improve your assessment & diagnostic skills with a free trial Clinical Edge membership