Do you ever feel like your patients are on a merry go round from one pain and injury to another? You help your patient overcome low back pain, then a month or two later they come back with neck and shoulder or knee pain.
Other patients take one step forward and two steps back, with a big reduction in their lateral hip or back pain during your session, then hobble back in for their next session feeling worse than before.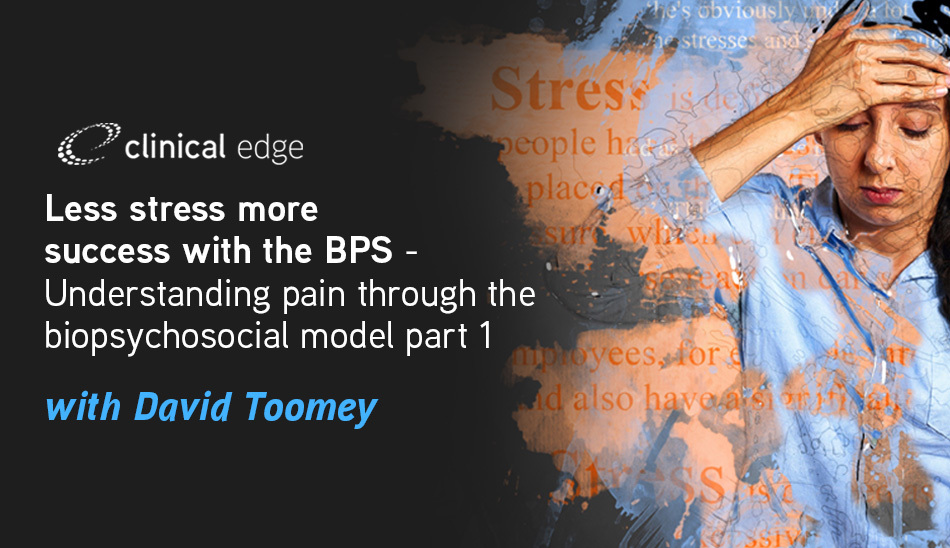 Help your patients escape the pain merry-go-round and make consistent treatment progress with this presentation from David Toomey (Musculoskeletal Physio & PhD Candidate), as you discover:
How to effectively use a biopsychocial (BPS) approach to unlock better treatment results.
Why focusing on the "bio" elements of diagnosis, rehab exercises and activity modification with acute pain patients, and "psychosocial" elements with persistent pain, anxious and depressed patients hampers your treatment success.
Whether psychosocial elements sort themself out as your patients' pain improves with your treatment.
How to have time in your treatment session for exercise progressions while also addressing the "bio", "psycho" AND "social" factors impacting your patients pain.
Common mistakes we make when using a BPS approach.
A step by step approach to effectively use a BPS approach with your patients.
When to refer patients "in" or "out" for additional support with psychosocial factors.
Have less stress and more success with the biopsychosocial model, as you find simple solutions to complex pain with this presentation.
CLICK HERE to improve your assessment & diagnostic skills with a free trial Clinical Edge membership