When patients have low back pain that persists for years despite rehab and surgery, how can you use a biopsychosocial (BPS) approach to overcome their pain and functional limitations?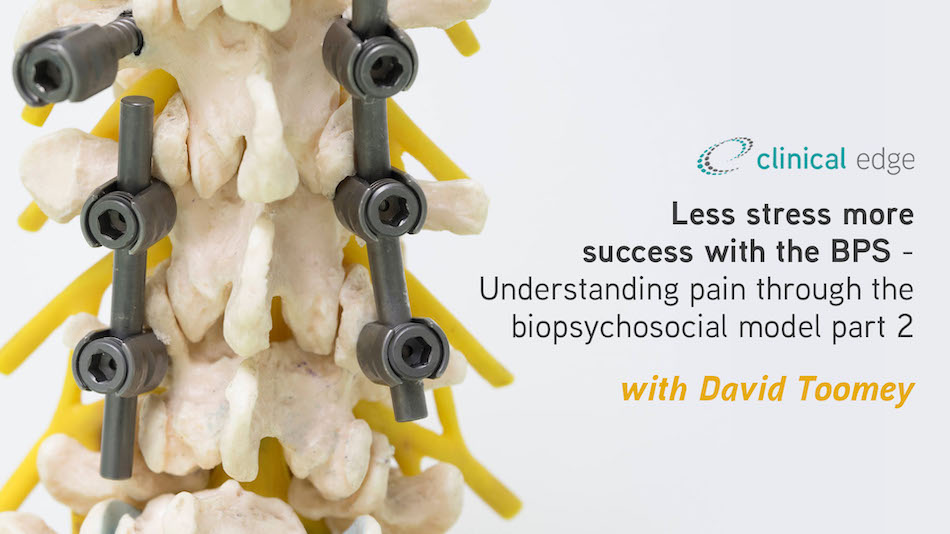 Discover how to use exercise, education and manual therapy in an evidence-informed BPS approach that achieves results with your persistent pain patients in this case study presentation with David Toomey (Musculoskeletal Physio & PhD Candidate). You'll explore:
The case study of a patient with persistent low back pain after a snow-skiing accident, subsequent surgery and years of rehab.
How to use a comprehensive BPS approach incorporating exercise, education and manual therapy (MT) to improve pain.
How to use this approach to achieve patient goals & progress complex or persistent pain patients along the road to a successful recovery.
How to tailor your treatment to incorporate patient goals and preferences.
How to address BPS factors you identify such as fear avoidance, beliefs that pain = damage, and feeling like their back is "fragile".
How to use manual therapy (MT) as part of a BPS approach with persistent pain patients.
How to explain MT in a way that removes reliance on passive therapies, and improves patients' confidence in their low back strength and robustness.
Exercises and progressions you can use with your persistent low back pain patients.
Explore this low back pain case study now, and improve your persistent pain treatment results using a BPS approach that incorporates exercise, education and manual therapy.
Toomey D, Reid D, White S. How manual therapy provided a gateway to a biopsychosocial management approach in an adult with chronic post-surgical low back pain: a case report. Journal of Manual & Manipulative Therapy. 2020 Sep 15:1-26.
CLICK HERE to improve your assessment & diagnostic skills with a free trial Clinical Edge membership