When your patient has low back and hip pain, they may have a musculoskeletal cause like discogenic, neuropathic, SIJ, facet joint, or somatic referred pain or a radiculopathy. Bony structures may be responsible for their pain, such as a fracture, bone stress injury, or avascular necrosis, or they may have a visceral source, eg kidneys.
Each cause requires significantly different management. If you treat a lumbar bone stress injury patient the same as a discogenic or avascular necrosis patient, the best case scenario is your treatment won't work, or you'll make their pain worse.
You may suspect discogenic pain if your patient reports:
Pain at or above L5
Obstruction to movement after repeated movements in the opposite direction
Centralisation & peripheralisation of symptoms (Petersen et al 2017)
How will you differentiate discogenic pain from somatic referral, neuropathic, SIJ, or facet joint pain, a radiculopathy, visceral or bone stress injury, or avascular necrosis?
How many low back pain patients do you treat each week? How often are you confident in your diagnosis?
Understanding pain patterns, such as how your patient will describe their pain (dull, aching, gnawing, hot), the area of symptoms, aggravating & easing movements and activities, and 24 hour patterns with different diagnoses will help improve your assessment accuracy. You'll use your subjective history to guide your objective assessment, become more efficient & target your treatment.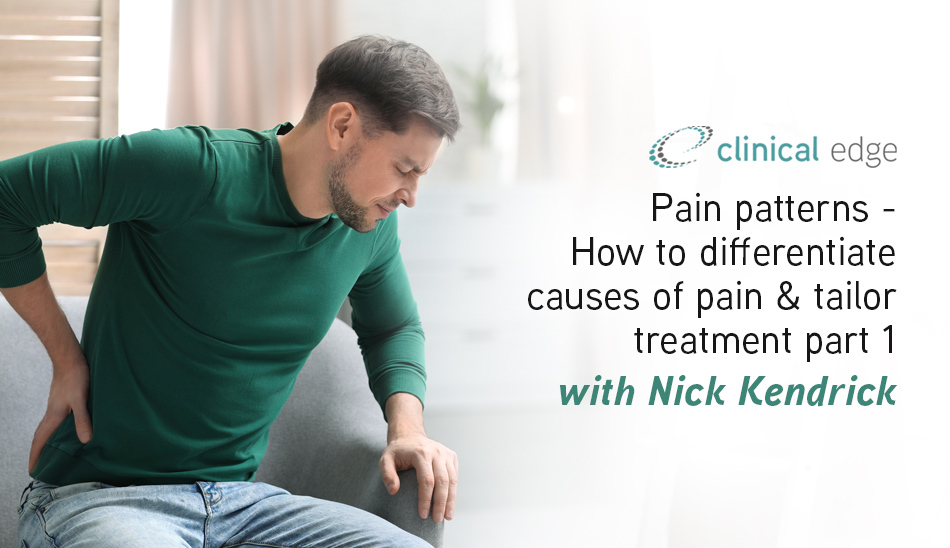 This new presentation with Nick Kendrick (APA Titled Sports & Musculoskeletal Physio) will help you master pain patterns for common lumbar spine conditions, bone and tendon pain, so you can quickly and accurately assess and diagnose your patients pain, using the latest evidence to tailor your treatment for great results. You'll explore:
Pain patterns, assessment tests & diagnosis of:
Low back pain

Discogenic pain
Facet joint pain
SIJ pain
Common SIJ myths

Myofascial pain and trigger points - myths, misconceptions and mechanisms
Tendon pain
Bone pain

Fractures and bone stress injuries
RED-S
Transient osteoporosis
Avascular necrosis
CLICK HERE to improve your assessment & diagnostic skills with a free trial Clinical Edge membership